Welcome to Sprigs & Twigs
Founded in 1997, Sprigs & Twigs, Inc. is an award-winning leader in the creation and care of beautiful outdoor living spaces throughout southeastern Connecticut, southern Rhode Island and surrounding communities. We are stewards of our environment specializing in organic and eco-friendly land care.
New Book from Sprigs & Twigs
Sprigs & Twigs is pleased to announce our first book which includes our favorite "Ask the Landscape Professional" articles. Order one today for someone special, or yourself!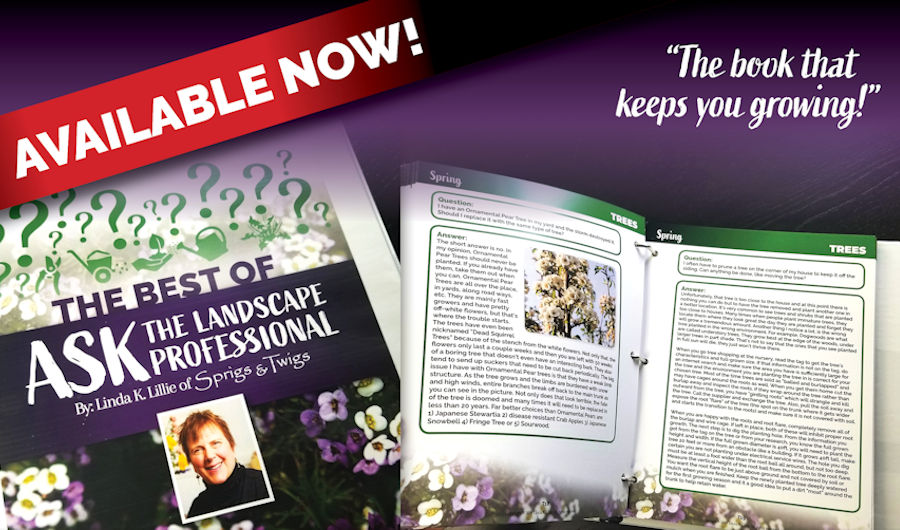 The Best of Ask The Landscape Professional
Over 200 of your gardening questions answered
Organized in an easy to use 3 ring binder
An invaluable reference guide
A real treasure to give to that special gardener on your List (or yourself)!
$39-95 + tax = $42.48 + shipping and handling. It can also be picked up at our Gales Ferry Office
For more information, download the flyer for this book.

To Order Your Copy
To order this book, you can use the PayPal Buy Now option below or contact Robin at Sprigs & Twigs by calling (860) 235-0752.
Ask The Landscape Professional
"Ask The Landscape Professional" is a weekly series by Master Gardener Linda K. Lillie, President and Senior Designer at Sprigs & Twigs. It is published weekly in The Day and other regional newspapers covering a variety of Landscape, Maintenance, Lawn Care, and Tree Care topics.
QUESTION:
My husband and I read with interest your article on Fuzzy Deutzia in the Lyme Times several weeks ago. We have this shrub; it was here when we bought the house over 25 years ago and enjoy it every year when it blooms. However it is right up against the foundation and should be moved. It is now about 15 feet tall. Should we move it now? Let it acclimate to new area then rejuvenate prune next year? Or prune a little now and move? Right now it is on the west side of the house getting afternoon sun. Should it remain in area with lots of sun? Thank you in advance for your advice. Vivian
ANSWER:
It's a great time to move the Deutzia but there are a few things that need to get done to help the tree survive. Cut back the height of the plant by 1/3. Remove 1/3 of the oldest, largest stems by cutting the stem at the base of the plant. This reducing step is necessary because a transplanted shrub's roots cannot support the above ground growth of the original shrub because a good portion of its root system will be destroyed in the transplanting process. Before replanting, if any of the roots h... (read more)

Read This Article All Articles Submit a Question
Our Team
Meet the members of our staff for our landscape, lawn care, tree care, and stonework services
Employment
View open positions and apply for a position with Sprigs & Twigs to join our team of professionals
Testimonials
Read some of our testimonials from our clients regarding the level of service we provide
Follow Us
Discover ways to keep in touch with Sprigs & Twigs through email and social networks
I just wanted to express my thanks for the absolutely beautiful landscaping project you just completed at my house! I especially appreciate the extremely professional manner everything was handled from your initial consultation, design process and installation. Please extend my thanks to everyone on the team.

Ann
Dear Linda & Crew - Thank you for my beautiful & so much more than I expected landscape. I've been waiting a long time for this & now thanks to you and your company, I'm completely happy I chose you! Just what I needed - natural & unassuming. Great job! Well done to all of you!

Dee C.
Sprigs & Twigs is easy to work with and the people sincerely care about the client's garden and the work that they do. I am impressed by the punctuality, professionalism and hard work of the gardening crew. Additionally, they are knowledgeable in plants and their cultural requirements which is most important!

Joanne